Keeton Pioneering Research & Development
At Keeton, we know that lake and pond environments are highly dynamic ecosystems that rely on natural processes to maintain natural order. And while under normal environmental conditions, proper water quality is achieved through the activity of naturally occurring microorganisms and beneficial bacteria, our industrialized world poses more challenges to water quality management.
Our lab is managed by Senior Research Scientist, Susan Knudson, MPH, PH.D.. Susan has decades of bacteria and enzyme research—as well as development experience—and is charged with bringing innovative products to market.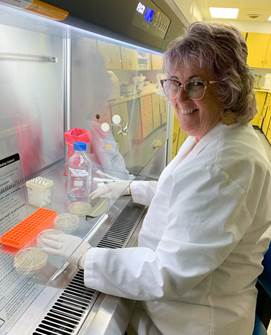 Naturally Occuring Bacteria Can't Keep Up
Today, most aquatic ecosystems are bombarded with excess nutrients from multiple sources, including urban and rural runoff, fertilizers, and waterfowl. Unfortunately, the naturally occurring bacteria cannot keep up with this influx of nutrients. This leads to a shift in the natural balance in ponds and lakes and encourages the build-up of bottom muck, odor, and poor water quality.
Keeton Gives Nature A Boost
Keeton Industries is intentional about taking a natural approach that integrates well with the way nature is intended to operate. All of the microbial species that we manufacture occur naturally in most ponds and lakes. We are simply introducing a larger quantity of those species to help the naturally occurring strains keep up with the increased workload.
You can rest assured, knowing that the bi-monthly or monthly application of ClearLake™ Muck Eliminator and ClearLake™ Pond & Lake Clarifier will keep ponds and lakes clean, clear, and muck free naturally, without the worry of residual harsh chemicals.
Want to get rid of the sludge and muck in your water?