A History of Superior Water Quality Management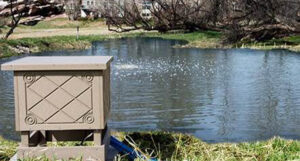 ProLake, a division of Keeton Industries, is known around the world as a high-quality manufacturer of beneficial bacteria, solar aeration, and electric aeration for managed aquatic environments. What began in the family garage over 50 years ago. ProLake has since grown into a globally recognized leader in water quality management products. Though we serve customers around the world, we aren't some corporate dinosaur that sacrifices customer service or lacks innovation. 
Personal Service From Experienced Professionals
When you call us you will always speak to a live person and not a automated answering system, and not just any person either. You'll speak with someone who knows exactly how to assist you with even the most complex water quality issues you might have come cross. If your company deals in aquaculture, lake management, storm water, or if you are an individual pond or lake owner, give us a call!
Improving waterways is what we do best... we'd be happy to help you out!
Leading The Water Treatment Industry
We are not just a re-packager like many of the industry's beneficial bacteria manufacturers. At ProLake, we are continuously innovating and developing new, specialized strains of beneficial bacteria to work faster and longer than what is currently commercially available.
Our lab is managed by Senior Research Scientist, Susan Knudson, MPH, PH.D.. Susan has decades of bacteria and enzyme research—as well as development experience—and is charged with bringing innovative products to market.
Cutting-Edge Microbial Strains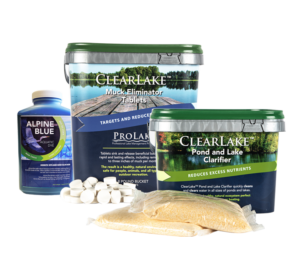 Through years of field research, ProLake has identified several special microbial strains uniquely capable of remediating specific and severely detrimental water conditions. All beneficial bacteria are blended using single-species cultures to ensure optimum growth and to avoid contaminants prior to blending the final commercial product.
After culturing, drying and preservation, the super-concentrates are blended for the final processing. The microbes are then blended with trace elements and a nutrient base, finished as a bulk product, and packaged into 8 oz. water-soluble packets—either bulk dry or slow release tablets.
Samples are retained from every batch for quality control testing to ensure the product is safe and effective.
Trusted Laboratory Processes
All ProLake bacteria products are cultured under EPA-approved laboratory conditions and each step of the process is documented for quality control purposes.
ProLake maintains complete control of our microbial products—from fermentation to final packaging—via a certified Good Manufacturing Process program validated by a third party. Having the ability to control and document production processes in-house allows us to produce the highest quality products on the market today.
Need high-quality aeration or water treatment?