For Ponds & Lakes Up To 1/2 Acre
Kasco Marine WaterGlow 3 LED RGB Light Kit with Programmable Remote
3 Light Kit:
Creates 9 Different Colors
Cord Lengths Available Up To 400 Feet
3 Sequencing Patterns For Light Movement With Music
Includes Remote Control
Runs On 24VDC At Just 5W Per Fixture
Fits 1/2 HP – 1 HP Fountains
2 Year Warranty
*PLEASE NOTE: Make sure you know the distance from the power box to the distance you want the fountain to sit in the pond/lake. The light cord length chosen should be the same as the fountain cord length on a new fountain install.
Product Data
Kasco Marine 3, 4 & 6 Light LED RGB Light Kits with Programmable Remote
You can enjoy your fountain as much at night as the day with the Kasco Marine 3, 4 & 6 Light LED RGB Light Kits with Programmable Remote.
Kasco Marine Light LED RGB Light Kits with Programmable Remote delivers powerful and striking beauty to any Kasco fountain.
Kasco Marine Light LED RGB Light Kit with Programmable Remote is perfect for smaller fountains such as our 1/2 HP and 3HP fountains.
Kasco's Light LED RGB lighting is the ultimate decorative and/or event lighting for your J or VFX fountains. With the capacity to create 9 different colors, this remote control operated unital so allows the user to adjust brightness levels, has three sequencing patterns, and can be coupled with any music playing device that supports a 3.5mm Y connector (not included with unit.) This affords the user the ability to set the RGB light sequencing to the rhythm of the music!
Available in a 3 fixture (compatible with 1/2HP – 1HP) or 6 fixture (2HP – 3HP) kit, this color-changing RGB Lighting is built with the same durability you expect from Kasco. Our 1-piece composite housing and a secure weld around the lens ensures a leak free assembly and the unit can be mounted with standard bracketing.
9 total colors (white, warm white, red, green, blue, orange, yellow, cyan, magenta).

Brightness Levels: each static color can be adjusted to 100%, 50%, 25%,1 2% and 6%.

3 Automatic Sequencing Modes: Flash (jumptonextcolor), Bloom (transition from color to color), and smooth transition (smooth transition from color to color).

Rhythmic Sequencing: Music in put on the controller allows you to follow the rhythm of music played through your phone, tablet, laptop and more! Settings include fast change, medium and smooth transition.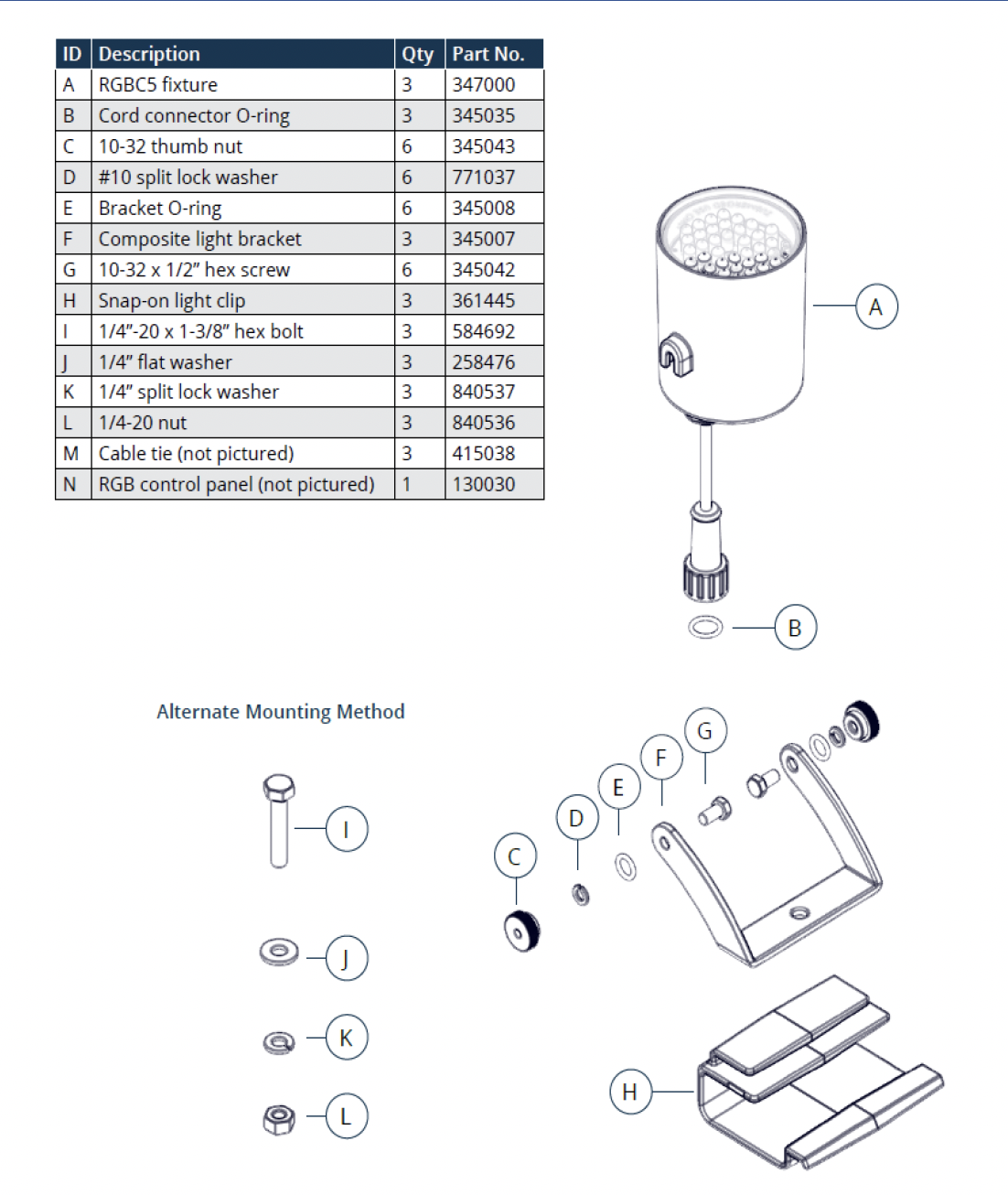 Product Specifications
Kasco Marine 3, 4 & 6 Light LED RGB Light Kits with Programmable Remote

50, 100, 150, 200, 250, 300, 400 & 500 Feet

Fits 1/2 - 3 HP Kasco Marine VFX or JF Fountains

White, Red, Green, Blue, Warm White, Amber, Yellow, Cyan and Magenta

4 Light Kit For Competing Units

Part Number Cord Length

NRGB3C5-050 50 ft.

RGB3C5-100 100 ft.

RGB3C5-150 150 ft.

RGB3C5-200 200 ft.

RGB3C5-250 250 ft.

3, 4 or 6 Light Fixture Kits (Your Choice With Appropriate Cord Length)
Snap On Light Kits
Power Cord

Controller
RGB Control Panel
Applications
HOA's
Golf Courses
Recreational Ponds & Lakes
Retention Ponds
Industrial Retention Ponds
Farm Ponds
Ski Parks
Aquaculture Ponds
Zoological Displays
Product Videos & Data Sheets
Having trouble with odor, sludge, or fish kills in your water system?